Get Your Merrick Flood Insurance Quote Today
Located on the South Shore of Long Island, Merrick, New York has become a popular suburb for growing families and those looking to enjoy all the recreational activities available in this friendly, coastal town. Just over 5 square miles, Merrick is nearly 20% water. From Merrick Bay to the East Bay, there are lots to love about living in this Long Island community. While Merrick is a wonderful place to live, life here doesn't come without risk. Which is why having a Flood Insurance Merrick Policy is an important investment, whether your home is on Shore Drive or off Smith Street. Flooding is the number one natural disaster in the United States when it comes to the number of lives lost and property damaged. What are you doing to protect your property?
That's where Denis A. Miller Insurance Agency comes in. Locally owned and operated, we are proud to be New York's largest flood insurance Merrick quote provider, with a special focus on serving Merrick, NY residents. Not only do we have the experience and resources to meet all of your flood insurance needs, but our local presence and first-class business practices, mean you can depend on us for outstanding service. Flood insurance premiums are determined by the US Government; which means your rate is the same with any insurer. That is why choosing a company you can trust to deliver superior service and flood insurance claims support is of the utmost importance. That company is Denis A. Miller Insurance Agency.
Regrettably, many homeowners fail to realize the importance and value of flood insurance until it's too late. Only Flood Insurance Merrick Policies protect your home and valuables from damage caused by mudflow and rising water. With its many inlets, canals, and developments reducing the land's natural ability to absorb water, Merrick and the surrounding Long Island communities are particularly susceptible to flooding. If your property does experience flooding, claims are paid quickly allowing you to recover, replace and rebuild what was lost, and flood insurance pays covered claims even if a federal disaster is not declared. So, you can be assured that your property is protected.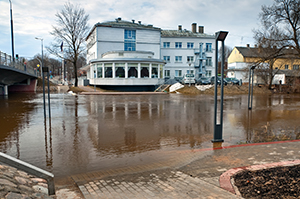 Whaleneck Drive to Merrick Road, Clubhouse Drive to Camp Avenue — regardless of whether you own a house, condo, commercial property or you rent an apartment, anyone in Merrick can purchase flood insurance — even if you have had prior flooding. Does your mortgage require a flood insurance Merrick policy? Perhaps you just recognize the importance of protecting your property investment? Whatever the reason, Denis A. Miller Insurance Agency can help you select the right flood insurance policy to protect your home or Merrick business. Experience the difference, and see for yourself why we are the trusted choice for flood insurance on Long Island and throughout New York State. We look forward to serving you!