Get Your Flood Insurance Bayville Quote Today
Located on Long Island Sound, Bayville, New York offers amazing waterfront properties and incredible views. Also known as Pine Island, Bayville provides convenient access to both Oyster Bay and Cold Spring Harbor, making it the perfect location for boating and fishing enthusiasts. From Soundside Beach Park to Mill Neck Preserve, Bayville Avenue to West Harbor Drive, there is lots to enjoy about life in Bayville. While Bayville is a beautiful place to call home, life here doesn't come without risk. We are a Flood Insurance Bayville Agency, we help protect against the number one natural disaster in the United States when it comes to casualties and property damaged. What are you doing to protect yourself?
That's where Denis A. Miller Insurance Agency comes in. Locally owned and operated, we are New York State's largest provider of Flood Insurance, with a special focus on serving Bayville homeowners and businesses. Not only do we have the resources and experience to meet all of your Flood Insurance requirements, but our unparalleled business ethics and local presence, mean you can rely on us for service that is second to none. Premiums for Flood Insurance Bayville Policies are set by the U.S. government, so your rate is the same regardless of which insurer you choose. That is why it is so important to work with a company you can depend on to deliver superior service and Flood Insurance claims support, if and when you need it. That company is Denis A. Miller Insurance Agency.
Your home represents a significant investment. Unfortunately, many homeowners don't realize the value of Flood Insurance until it's too late. Only Flood Insurance Bayville Policies protects your home and personal possessions from damage caused by rising water or mudflow. Between Bayville's narrow profile and developments reducing the land's natural ability to absorb water, Bayville is especially vulnerable to flooding. In the event that your property sustains water damage, you can be confident that claims are paid quickly allowing you to replace and rebuild what was lost. In fact, Flood Insurance pays covered claims, even if a federal disaster is not declared. So, you can have peace of mind knowing your property is protected.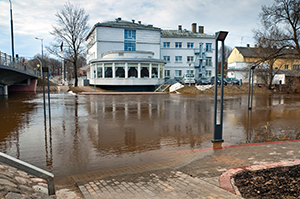 From Village Woods Park to The Crescent Beach Club, Centre Island Road to Mountain Avenue — regardless of whether you own a home, condo, business or you are a renter, anyone in Bayville can purchase a Flood Insurance Bayville Policies — even if you have had flooding in the past. Whether your mortgage requires it or you value the security of your investments and belongings, Denis A. Miller Insurance Agency is here to assist you in selecting the right Flood Insurance policy to protect your home or Bayville business. Experience the difference, and see for yourself why we are New York State and Long Island's trusted choice for Flood Insurance. We appreciate the opportunity to assist you!