Flood Insurance – Atlantic Beach & Commercial Insurance Atlantic Beach Quotes
Located on the South Shore of Long Island, Atlantic Beach, NY is a popular destination for tourists and those that appreciate all the recreational activities and relaxation that life in a beach town in Nassau County has to offer. From the Catalina Beach Club to the Atlantic Beach Surf Shop, there is lots to enjoy about life in Atlantic Beach. While Commercial Insurance Atlantic Beach Quotes don't come without risk. Which is why flood insurance is such an important investment, whether your home is on Bay Boulevard or off Park Street. Flooding is the number one natural disaster in the United States when it comes to lives lost and property damaged. What are you doing to protect your property?
That's where Denis A. Miller Insurance Agency comes in. Locally owned and operated, we are one of the largest providers of Commerical insurance Atlantic Beach Policies in New York State, with a special focus in serving Atlantic Beach homeowners and businesses. Not only do we have the expertise and resources to meet all of your Nassau County flood insurance needs, but our local presence and impeccable business ethics mean you can rely on us for first-class service. Premiums for flood insurance are set by the U.S. government, so your rate is the same with any insurer. That is why it is so important to work with a company you can trust to deliver superior service and flood insurance claims support, if and when you need it. That company is Denis A. Miller Insurance Agency.
Your home represents a significant investment. Unfortunately, many Nassau County homeowners don't realize the importance of flood insurance until it's too late. Only flood insurance protects your home and its contents from damage brought about by rising water or mudflow. Between Long Beach Barrier Island's narrow profile and commercial developments reducing the land's natural ability to absorb water, Atlantic Beach is especially susceptible to flooding. In the event of a flood, you can be confident that claims are paid quickly allowing homeowners to replace and rebuild what was lost. In fact, flood insurance pays covered claims, even if a federal disaster is not declared. So, you can have peace of mind that your property is protected.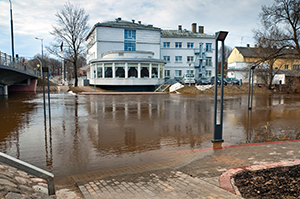 We are a Commercial Insurance Atlantic Beach Agency, whether you own a home, condo, business or you rent, anyone in Atlantic Beach can purchase flood insurance — even if you have had flooding in the past. Whether your mortgage requires it or you recognize the importance of securing your investment and valuables, Denis A. Miller Insurance Agency is here to assist you in selecting the right flood insurance policy to protect your home or Atlantic Beach business. Experience the difference and see for yourself why we are Long Island and New York State's trusted choice for flood insurance. We appreciate the opportunity to serve you!